Welcome
to the NNAODL Homepage, where you can learn how to join our list and a few other things about Native North American Orchids and orchids in general.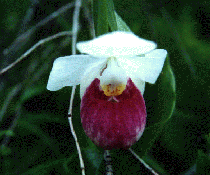 Cypripedium reginae
(photo borrowed from Nicolas Plummer)
This site is under construction, and by a novice at it, so please be forgiving and forewarned.

The discussion list is not working right now, but if you join you will be on the list when it does restart.

Send suggestions and hints to the e-mail below.